part I.
I'm not an avid collector of shoes.
Not that I wouldn't want to be but I fall even of the lowest of heels and there is rather limited variety of funky shoes on flat soles or platforms. I have a pair of dress Birks, had thongs with rhinestones... and the rest is plain vanilla whatever comes in size 42. Which does not necessarily mean that I wouldn't appreciate looking at shoes. The other day, many months ago, I wandered to the
Ferragamo museum
to, well, look at shoes. It was nice to see all those creations, I was never aware how much of it was custom-made, all that crochet and lace. But then there was this one: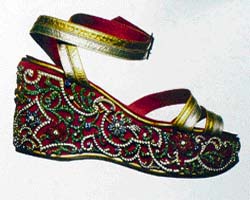 Jewelled sandals made for Maharani of Cooch Behar. While I searched for the picture, I learned that she was a real fashion icon of her time. The tag in the museum cupboard also said that a handful of replicas are reserved for customers of the Ferragamo store in Tokyo, upon which I bitterly regretted that I'm not filthy rich.
I spent the afternoon searching the internets. I discovered that Kapurthala is a real place (sorry.... my geography is no big deal) and that, among other interesting tidbits of information, it's where the Shalimar gardens are located (1).
And then there's Parfum du Maharajah de Kapurthala by Lenthéric. Perfume Intelligence
says
: "Named after the Maharajah; possibly commissioned by him." Or, wide choice, low prices (2). At least Perfume Intelligence says that the perfume was launched in 1925 and should it have been comissioned by the Maharajah, or named after him, then it was Jagatjit Singh:
While researching for something useful for this post (4), I found lots of articles about how the Indian royalty had nothing constructive to do, being under the British rule so they toured Europe spending money by handfuls and were glamorous. See the sandals above, after all.
It's not an exciting piece of information but I'll check some books for part II. Meantime, you can disentangle the recurrent and less recurrent notes. (9) The actual perfume review will be up as soon as Plague is over and I can trust my smell again.
Images snatched from The Tribune (the jewel-covered sandal;
----------------------------------
(1)Think Guerlain's Shalimar. Clicking the linky in the wikipedia article about Kapurthala, I was redirected to an article about Shalimar Gardens in Lahore. Low prices, wide choice (3). See also (5)
(2) that's sarcasm
(3) that's also sarcasm.
(4) whose usefulness is at your judgment, as well as my research result
(5) The Shalimar Gardens of Lahore, I read at Wikipedia, source of all knowledge (6), were built by
Shah Jahan
of Taj Mahal fame and I've hereby judged that it's these gardens that gave name to the perfume. (8)
(6) albeit sometimes very wrong, but all
(8) It is also possible that Shalimar Garden means Municipal Green in some language I do not know so it's up to the readers to educate me.
(9) I wasn't drunk while writing this. Neither insane. Just playful. (10)
(10) tee hee, see how much can be written just about nothing.